One of the greatest pleasures of working in higher education was my opportunity to be an occasional consultant for the Commonwealth of Learning (COL) for a couple of decades – a much longer period than the reigns of its Presidents, as there were three of them during this period. When I started the President was Raj (that's Professor Dhanarajan to you, unless you're one of the multitude encouraged to call him Raj), with whom I'd worked at the Open Learning Institute of Hong Kong (later the Open University, OUHK), where I was Senior Course Designer.
One of my first jobs for Raj in 1997 was an evaluation of the Rajiv Gandhi Fellowship Scheme. The scheme, which supports candidates without adequate means to study higher education, had been run for a few years by Indira Gandhi National Open University (IGNOU), and CoL needed to know how well the scheme was being implemented. Sensibly, as I wasn't particularly experienced as a consultant at the time, I was the junior member of a three-man (yes, no woman) team, led by a Canadian professor along with an Indian counterpart. Both of their names escape me, but they were pleasant and collegial. You can see them in the pic, standing outside our accommodation in Delhi, the Krishna Continental Hotel.
Yes, we naturally needed to do a site visit to meet staff and check materials, administration and support. I'd never been to India, but had read and seen enough to be prepared for the onslaught of one's senses when you visit this unique country. That's me at the entrance to IGNOU, which is (or was) relatively modest in its size and facilities (especially given the huge number of students it enrols).
We were warmly welcomed and spent the morning in discussion sessions with relevant staff members. On small point I remember is that when we first sat down, there were glasses of water on the table in front of us. During the first session, none of us touched the water, and although nothing was said, for the next session there was bottled water on the table. This time we all partook. Though I have a sensitive stomach, on this and subsequent visits to India I haven't suffered from 'Delhi belly'.
There were also a couple of presentations of the key features and operation of the Scheme, and overall we found the IGNOU oversight to be efficient and effective. The evaluation team is shown here with four of the IGNOU staff, two of whom I can certainly name: Santosh Panda is on my left (who I came to know as an accomplished researcher and author) and Dr Murthy (yes, we had a laugh at the similarity of our names) is on my right.
An exception to the modest surrounds of IGNOU was a rather magnificent building at the rear of the campus. It was a technology hub, with a focus at the time on video and broadcasting, funded by the Japanese government. As you can see, it's an impressive edifice, maintained in immaculate condition, so much so that when in the building you had to remove your shoes.
We were taken there not just to appreciate its magnificence, but also to take part in a recorded video session. Though my memory is a tad deficient on detail, from my recollection we were asked about various aspects of open learning from an international perspective. And if you look closely at the pic of us in the studio, you will notice our shoeless state!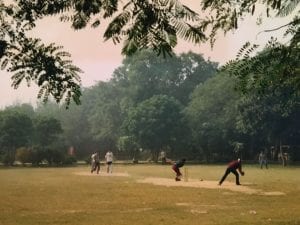 Though it was a busy visit, we were taken to visit various sites (yes including the Taj Mahal – I'll spare you the pics) which helped round out our perceptions of the country. My appreciation was increased more personally, though, by my experiences wandering around the environs of the hotel in the spare time we had at the end of each day before sunset.
In particular, a fond memory is of finding a local community park, where (surprise of surprises – not!) groups of locals indulged in games of cricket. Not only was I able to watch, but was invited to join in the fun. I maintained the sporting reputation of my country by avoiding being quickly dismissed – it probably helped that most of the players were not yet teenagers. As a sign of the times, I remember that all the bowlers wanted to be Shane Warne, and the batsmen idolised Sachin Tendulkar.
All in all it was an enjoyable and educational experience. And my working burden was lightened by the chair doing most of the report writing on behalf of the team. An encouraging start to the world of COL consulting!