Marilyn and I were wandering around a car yard, and quite liked the look of a Renault. Chatting to the salesman, we commented that our first car had been a Renault, the dreadful Dauphine (which managed to make Time's list of The 50 Worst Cars of All Time). This reflection has stimulated me to put together a list of all the cars I've owned since then. Unfortunately I don't have pics of them all, but there's of course no problem in finding suitable representations:
So, here it is, number one, the Renault Dauphine. My dear father helped me to purchase it with some insurance money for the princely sum of $325. It gave trouble from day one, to say nothing of its awful handling, accentuated by the independent rear suspension which caused it to suffer what was alarmingly referred to as 'rear end tuckunder'. But we stuck with it for a couple of years before we got seriously fed up and started to look around for something better.
Yes, our first foray was a bit of a disaster, but the next was one of my favourites: an Austin Healey Sprite Mark 1, known as the 'Bug-Eyed Sprite'. I rushed to a car yard one morning after I spied an ad in The Mercury, only to find someone else had beaten me to it by seconds. I hung around, and fortunately the guy was so big that he couldn't sit in it, so I was able to buy it for $600 (less trade-in). And what a lovely little car it turned out to be: Marilyn and I spent many happy days pootling around in it, and gradually 'doing it up'.
Everything was done on the cheap. A fellow enthusiast helped rebuild the gearbox (it would occasionally fall out of top gear) and the engine had to come out at one stage. But it took a fair bashing, as the pictures show, and brought us great pleasure as it rattled around Tasmania.
It had its issues, one being that a previous owner had hand painted it! It took weeks of rubbing back with wet and dry sandpaper to get it to a condition where it could be resprayed (cheaply, in a friend's garage). The pictures show the before and after condition. Yes, I know we look a tad weird in our Sunday best, but that's another story. And then some idiot backed into it when parked, but we managed to get him to pay for the repair to the back fender.
Now my memory may be faulty, but I think we sold it around the time we were married. In its place we bought a good old Morris 1000, the last of the Morris Minors. Early models had a split windscreen, so this and other features easily identify them. We had the four-door model, and I vaguely remember fitting the seat belts myself (common practice in those days).
Marilyn came into our marriage along with a Mini 850 that she'd bought from her cousin. It was one of the very early Minis, with the long and bent gear lever, and in a mid shade of blue, much like the picture. Lovely little car, and in great condition. She was so terrified that we'd make it look old and lose value that she decided to sell it.
Somewhere about here we had another Austin Healey, a Sprite Mark 2. Even for the time it was incredibly cheap ($225), though it did need a bit of work to get it roadworthy (nothing expensive). Like the Mark 1, it was a fun car and served us pretty well, and I'm rather surprised that I can't find a photo of it in the boxes of old snaps that litter parts of the house. But it looked exactly like this. And continuing the theme of doing work on it myself, it is with great pride that I recall changing the front brakes from drums to discs, certainly a non-trivial task!
A while later saw the purchase of a nice little Fiat 124. At this time Fiat made good cars, highly enjoyable to drive with good balance and excellent brakes. The seat position, built for those with long bodies and short legs, suited my simian stature. The colour of this one is wrong (ours was an attractive burgundy), and I know it's rather boxy, but it was fun.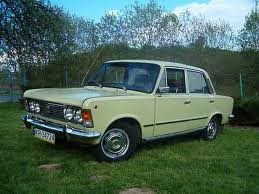 Sticking with the maker, we moved up to a Fiat 125 – same car, but with a bigger engine with double overhead camshafts, even better brakes, and even more 'fun factor'. Only problem was that the engine carked it, leaving us with a major financial hurdle to overcome to have it fixed. No worries, I was working at Hobart Technical College, and one of my mates in Automotive Studies had the apprentices completely rebuild it. I well remember wandering into the workshop and seeing thousands of parts scattered all over the floor, which somewhat alarmed me. But all turned out well, and it went on to serve us handsomely.
Until we needed a deposit for a house, so it had to go. We had no money left. Marilyn's father kindly passed on his old FE Holden to us to tide us over (can't remember whether we paid him anything for it). He'd kept it in beautiful condition, and still even had the covers on the seats. It gave no trouble and served us well for a while, until I got a proper job and earned enough to buy something more interesting.
This is becoming alarming – I remember the cars we had, but not the order in which we owned them! All I know is that at one stage I bought a shiny red Honda S600, the revolutionary little sports car that looks like a baby E-type. It had a motorcycle engine (added double overhead camshaft) and chain drive to the rear wheels. It happily revved to about 9000rpm, though this did not necessarily produce a surge of acceleration, just a gentle prod. One day I must have prodded too hard, as it blew a valve. Being financially challenged, I resolved to fix it myself, and can thus claim with pride that I've successfully replaced a burned out valve in such a complex engine (getting the drive chain for the camshafts right was a nightmare, as I recall).
And then we started a family and, somewhat surprisingly, returned to Renault. We traded in the Honda on a Renault 12. This model had just about the most comfortable seats you could imagine, and really was a particularly pleasant car to own. For a smallish car it was roomy (nice big boot for a pram), and great on a long trip. And yes, this time the colour is correct – you certainly knew when we were coming!
And there's another car about which I'm not sure of the timing – a lethal little Morris Cooper S Mark 2. They are sometimes known as the 'flying brick', and this one was no exception. I managed to buy it cheaply, as it needed work, and I remember struggling to get it home in one piece when first purchased. It had been 'worked on', and required some tinkering and minor bodywork fixes (colour of pic is wrong – ours was a ghastly orange, not unlike the Renault 12). It's acceleration for the time felt amazing, partly due to the replacement of the SU carburetors with a Weber.
Now my father was almost as bad as I was with regularly changing cars, so we started to buy his 'leftovers' as our family car. First was a Chrysler Sigma – he didn't stint, so it was a 'luxury' version with leather seats and other fancy accoutrements. As with the pic, it was a metallic gold colour. Also had a handy towbar, as my father always liked his fishing, so regularly towed a small dinghy up to the lakes of Tasmania in search of trout.
In similar vein, we bought his Mazda 929, again a fairly luxurious version and again with a towbar. Yes, we had a dinghy too, along with a trailer for taking rubbish to the tip and transporting purchases of second-hand furniture and the like. And I well remember the 'primitive' seat boosters that were used at the time for babies and small children.
Then in 1985 we upped stakes and moved to Hong Kong. Early on we bought a car (they were very cheap there), a Honda Accord hatchback. As we were living in Shatin, it was handy for ferrying the children around, and served us well. This recollection also brings back memories of one of the most foolish things we've ever done – driving to Tsim Sha Tsui with 12 people in the car!
Cars aren't really a necessity in Hong Kong, so we sold it. But a while later, when some friends were selling their Datsun, we asked to buy it (they advised against it, but we went ahead anyway). It was fine when it went, but had the habit of not starting at the most inopportune times, such as when you've paid the parking fee and want to leave the car park! I'm not sure of the exact model, but it was very similar to this pic – and yes, it was white!
Returning to Australia after seven years, we got the good old Mazda out of storage (along with the trailer). It served us well during our couple of years in Geelong, until we moved back to Hong Kong in 1994. This time we didn't bother with a car at all, like most people getting by just fine with cheap taxis and the excellent public transport system.
But while away we bought the first new car we've ever purchased – a 1997 Toyota Starlet for our daughter at uni back in Australia. Nice little car, 3-door automatic, the only downside being the lack of power steering. At low speeds it felt like a truck; fine once it got going. It's been in our family ever since a something of a workhorse. We've all driven it, and it was handed on to my son as a second car in his new family. photo credit: Brenden Ashton via photopin cc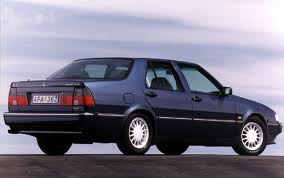 Four years later we were back in Australia, this time living in Melbourne. Looking around with fairly open minds, we ended up buying a Saab 9000 – nice car which served us pretty well. Comfortable leather seats, and really pleasant for a long trip (except when caught speeding through the outback). It was a bit big for us, so …
We ended up buying a Honda Civic, possibly the most boring car in the world. Apparently they are the least likely to be stolen – unappealing and invisible to potential thieves. Ours was grey – or does it sound better to say it was silver? Like others of our 'ordinary' cars, it served us perfectly well until we sold it to our daughter, who needed something bigger than her tiny Toyota Starlet when working in the country.
And then, while paying a family visit down to Hobart in Tasmania we bought my favourite car – a beautiful 1956 MGA, to my mind the prettiest MG ever built. It was in good condition when purchased; classic British Racing Green in colour with full leather interior. Like most of that model, it suffered with overheating from time to time, and needed work on the brakes (stainless steel liners for the slave cylinders) along with other odds and ends.
But this was nothing compared to the pleasure of driving it to work and home each day, hood down whatever the weather (tonneau cover very useful). No seat belts, a concession that the government makes for what has become a vintage car.
The MG was with us for around seven years, and was eventually sold during our third stint back in Hong Kong. We'd take it out when back home, and here it is heading for town with Marilyn's father in the passenger seat, well rugged up and with my beany to keep his head warm. In fact it was him who had first alerted me to the car back in Hobart.
And then from the sublime to the ridiculous, back in Melbourne I had a work car, a Holden Commodore. All jokes aside, it was a fine car (apart from the colour, a sort of greenish metallic hue), especially on a long drive, and Marilyn was actually a bit miffed when it had to go when I left Monash. There is something appealing about having a car that you don't have to worry about and which comes with a petrol card.
Shopping around again, Marilyn spied a rather pretty BMW 316ti with low mileage. It had apparently been owned by a well-known football player (his wife, anyway), Matthew Lloyd. I followed up a few days later, then surprised her by bringing it home one evening. It's a great car that is highly pleasurable to drive (beautifully balanced, corners as though it's on rails), though is mostly used to transport me and my wave ski to Point Leo from time to time.
When our friend and neighbour Mariko decided to trade in her Honda Civic Hybrid, we decided to make her an offer on it, particularly as the car yard was offering a low trade-in price, so we were able to do better. Again it's a low mileage car and in excellent condition, and has served us well. It took a bit to get used to the engine stopping when motionless at the traffic lights, but it drives very easily and is economical. In fact, it's been so good that we've handed it on to our son and bought ourselves …
A Lexus! No, nothing fancy, their cheapest model, I suspect. It's a CT 200h, the 'h' being for hybrid. We'd looked around at a few small cars (which we've always gravitated towards) and found this one to be refined and very comfortable (as well as super economical). It's simply a pleasure to drive, just feels so snug and easy.
What next? Who knows.