Education evolves continually, responding to changes in society and advances in our understanding of how learning unfolds.  Technology itself plays a major role in the way we access and absorb information, so advances open new doors for educators striving to reach students in ways they relate to.  This has never been more pronounced than what we see in the current digital age, where the shift from pencils and blackboards increasingly sees educators learning on keyboards, computer screens and other emerging education technology.
Changing paradigms in higher education are not the only major shifts occurring; educators at all levels are rethinking and retooling for more effective communication with tech-savvy students, starting in primary school.  So what is behind the changing face of education?  Where are we headed?
Online Migration in Higher Education
Traditional higher education follows a familiar pattern, drawing high school graduates to college campuses and technical school classrooms.  But the path to advanced education is moving away from this model, to include a variety of new learning options.
Online education continues to gain ground on the traditional in-person approach; both in pure virtual form and in blended alternatives using online channels to supplement live instruction.  Understanding why more students are completing studies through Web-based programs starts with awareness of what makes online learning appealing to students.
In short, lifestyle shifts require fresh thinking and new approaches toward education.  Consider the way we absorb information, for example, furnishing clues to the rise of e-learning.  We are accustomed to immediate access to the data we require, conducting queries online which would have previously required significant legwork to satisfy.  Instead of a trip to the library, or a call to an expert, today's students tap vast resources in seconds, answering most of their questions in an instant. Failing to keep pace with evolving technology places educators and other contributors at a disadvantage landing their messages.  Entire generations of knowledge-hungry Web surfers rely on the internet as conduit of information, so educators are plugging-in exponentially.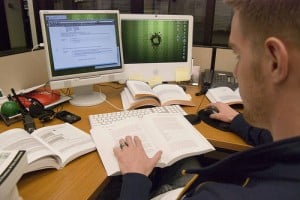 Just as information travels at a brisk pace, so do students in their daily lives.  As a result, the flexibility and autonomy of online learning options fit right in with student lifestyles.  Access to course materials and global instruction, from home, the bus, the park, or any connected location, changes the playing field for students balancing work responsibilities and heavy course loads.  As demand drives learning institutions to expand options online, technology simultaneously furnishes faster connection speeds, higher data transfer rates and increasingly mobile ways to plug-in.
Students under thirty-five are embracing e-learning for its convenience and for the diverse catalog of education options now being offered online, but there are other practical benefits too.  Online access to books and previously printed course materials helps students save money, over buying expensive textbooks.  And tuition rates for similar courses can also often be trimmed using Web-based education.
Widespread Impacts
As demand continues to fuel the explosive growth of higher education online, the phenomenon moves into primary and secondary schools, where technology-based learning follows a similar rise in prominence. The increasing use of laptops, smartphones and tablets furnishes alternatives to pen and paper, preparing children for the educational landscape of the future.  Schools are even debating the value of long-hand writing, some culling it from educational curricula.
Blended coursework is also making its way into lower levels of education, where students complete some of their studies through online channels.  With so many resources available, technology and demand will continue to shape education at all levels, furnishing flexible alternatives for fast-paced lifestyles.
*Our guest Sarah Brooks is from Freepeoplesearch.org. She is a Houston-based freelance writer and blogger. Questions and comments can be sent to brooks.sarah23 @ gmail.com
photo credit: velkr0 via photopin cc
photo credit: Mr_Stein via photopin cc
photo credit: Learn4Life via photopin cc