I'm Tasmanian (despite not having lived there for nearly 40 years) and was recently reading Neil Kearney's marvellous book, Longford: The Legend of a Little Town with a Big Motor, when I spied a surprising passing note on the legendary Grand Prix driver, Jim Clark. It seems that the sun-seeking Clark, while visiting to compete in 1967, "… went surfing on Tasmania's east coast." (p. 166). I followed up with Neil, who'd been told that "he went to the beaches with a couple of local drivers". That finding prompted me to try a stock-take of famous people who've caught the bug.
Jim Clark isn't the only surfing Grand Prix driver, of course. Currently, the most well-known is Lewis Hamilton, who is apparently pretty competent. Photos of him enjoying his diversionary pastime appear from time to time, along with video of him enjoying a session or two at Kelly Slater's surf ranch.
Not quite a racing driver (though he did star as James Hunt in the excellent film Rush about a decade ago), Chris Hemsworth is a keen and able surfer, with plenty of opportunity to indulge his interest near his palatial home in Byron Bay. Quite a few actors have taken to the joys of surfing, as we are unreliably informed in the gossip mags. Patrick Swayze was one, and reportedly managed to break his ribs while filming Point Break all those years ago.
More recently, Cameron Diaz is keen, taking any opportunity to take to the waves. As reported in Surfer Today, "She was seen surfing on many occasions, one of which alongside world champion Kelly Slater, in Hawaii, in 2007." And the list goes on, as the article on 'Celebrities who surf!' reveals.
Plenty of musicians are or have been dedicated surfers. One is Russ Kunkel, who you may not have heard of but who you have almost certainly heard.
Kunkel is a much sought after drummer, and the long list of major musicians he's played with includes Jackson Browne, Jimmy Buffet, J.J. Cale, Clannad, Crosby, Stills and Nash, Neil Diamond, Bob Dylan, Art Garfunkel, B.B. King, Carole King, Joni Mitchell, Linda Ronstadt, Neil Sedaka, Bob Seger and Carly Simon. I first encountered his talent through the music of my hero James Taylor, for whom he played on seven albums and countless live performances. Listen to 'Fire and Rain' and you'll hear his marvellous brief drum solo. Concerning his surfing, Kunkel writes: "I live in San Clemente, and so and I've surfed my whole life, …" and "I moved out to Long Beach, California, when I was nine. So, I kind of grew up right in the middle of the surf era."
And speaking of Jimmy Buffet, he's another enthusiastic long-time surfer, who clearly displays his skills in this pic of him on a SUP, the chosen craft of many surfers as they age. As well, if you recall the pleasant song 'The More I See You', you'll remember Chris Montez, also revealed as a surfer. Everyone knows the Beach Boys, of course, and in general they were not surfers, the exception being Dennis Wilson. It just might be apocryphal, but he's quoted as saying to his brothers in their early days, "Hey, surfing's getting really big. You guys ought to write a song about it."
Moving briefly to politics, it should come as no surprise that Barak Obama is or has been a surfer, given that he grew up in Hawaii. His norther neighbour, Canadian Prime Minister Justin Trudeau, enjoys the surfing life. Moving back in history, one that did surprise was that infamous royal, Edward VIII.
Yes, the Nazi-sympathising king who gave it all up for the American divorcee Wallis Simpson also fell in love with surfing. The Museum of British Surfing revealed that the discovery shows "the earliest pictures so far of a Briton stand-up surfing." This was way back in 1920 when the then Prince of Wales "was so stoked on surfing that he ordered the royal ship HMS Renown to return for 3 days in September just to surf! On this secret surf trip he hooked up with Duke's brother David Kahanamoku, and along with his great friend Lord Louis Mountbatten, they went surfing every day. The photos were signed by the Edward and Louis as a thank you to their hosts."
So who was the earliest-known female British surfer? The answer is astonishing, as it turns out to be Agatha Christie, who took up surfing with her husband Archie in the early 1920s. She later wrote: "After starting my run, I would hoist myself carefully to my knees on the board, and then endeavor to stand up. The first six times, I came to grief. . . . [but] Oh, the moment of complete triumph on the day that I kept my balance and came right into shore standing upright on my board! … Oh, it was heaven! Nothing like it. Nothing like that rushing through the water at what seemed to you a speed of about two hundred miles an hour." A summation that every surfer can identify with!
Finally, the furthest back I've managed to go is, remarkably, Mark Twain. In 1866, Twain was 30 years old when he visited Hawaii, and he wrote a detailed account of his experiences there. His vivid description of 'surf-bathing' reads:
In one place we came upon a large company of naked natives, of both sexes and all ages, amusing themselves with the national pastime of surf-bathing. Each heathen would paddle three or four hundred yards out to sea, (taking a short board with him), then face the shore and wait for a particularly prodigious billow to come along; at the right moment he would fling his board upon its foamy crest and himself upon the board, and here he would come whizzing by like a bombshell! It did not seem that a lightning express train could shoot along at a more hair-lifting speed. I tried surf-bathing once, subsequently, but made a failure of it. I got the board placed right, and at the right moment, too; but missed the connection myself. The board struck the shore in three-quarters of a second, without any cargo, and I struck the bottom about the same time, with a couple of barrels of water in me. None but natives ever master the art of surf-bathing thoroughly.
Perhaps he can't be deemed an experienced surfer, but he clearly gave it a red hot go!
Enough for now. If you know of any other prominent people that may not be recognised as surfers, let me know.
Postscript
Andrew, a surfing friend, came up with a couple of suggestions as additional examples. It would have been nice if Johnny Weissmuller (Olympic swimmer, Tarzan) was a surfer, but there's no direct evidence, though he was involved in surf lifesaving (and was involved with his brother in a famous lifesaving incident).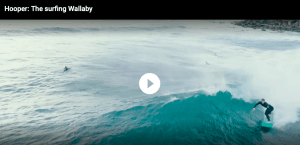 We're both rugby fans, and Andrew pointed to one particular player who surfs. Yes, the captain of the Australian rugby team, the Wallabies, is a dedicated surfer. Like many players of intense sports (rugby, Australian Rules Football, etc.), Michael Hooper finds the joys of surfing a wonderful pick-me-up and pleasure, as explained in this short video.
And now, in the October 2023 issue of Surfer Today, I've learned that the Nobel Prize winning author, George Bernard Shaw, discovered surfing in his old age (even older than me!) while on a visit to South Africa. Yes, he had great fun on a bellyboard, or paipo as the Hawaians call them.