I was relieved when I saw the sign – EXERCISE SURF THEN GO HOME – as I wasn't totally sure whether or not surfing was still permitted during the current crisis. Logically it seemed ok; I was simply driving to Point Leo, going out on the waveski for an hour or so, and then driving home. No interaction with anyone.
On top of that, the evening before it was reported on the news that a girl had been fined $1600+ for learner driving with her mother (subsequently rescinded).
So I was happy that the government and local council was being sensible about surfing. It's an activity that requires no interpersonal interaction, the only potential distancing danger being in the carpark.
There were of course additional signs at the parking areas and the lookout on the bluff, with details of precise requirements. And everyone I saw was obedient to the regulations, partly I suspect because we fully realise that if we don't obey, our privilege would be withdrawn.
Unsurprisingly, as the surf forecast wan't brilliant, there were not many people out when I arrived. The spot where I park had only one other car, and I saw no-one as I prepared to go in (donning wet suit, etc.). It's a handy spot, as it's just a short walk down some steps to the water (my board is quite heavy) where it's calm and easy to paddle out. In case you can't imagine it, here's an aerial picture of the area – you'll find the original (circa 1970s) in the Trigger Brothers shop, which you can see in the photo near the bottom right.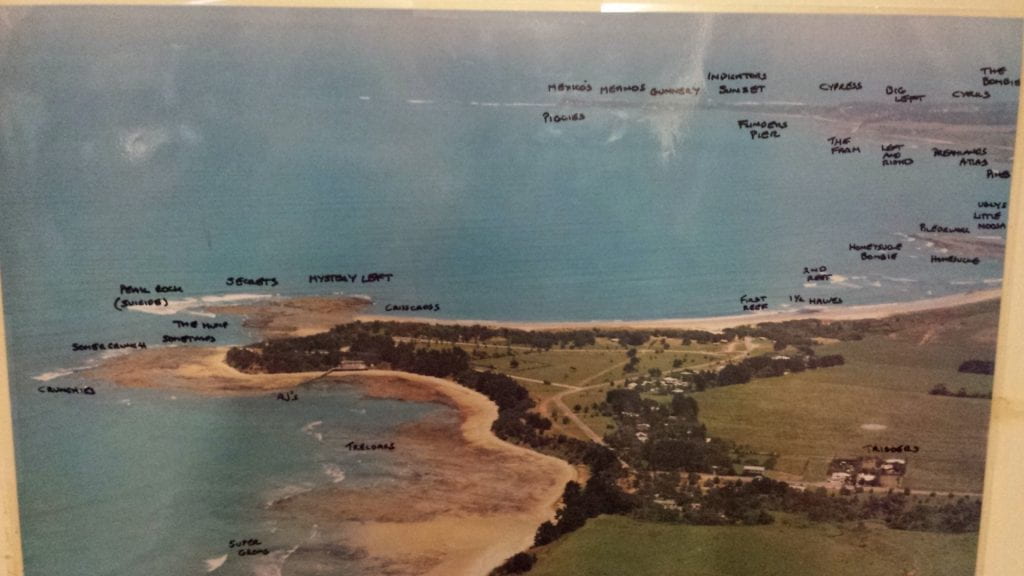 It's a great pic, except that it's a bit misleading in that it was taken at the lowest tide I've ever seen for the area. It's usually fine to surf about two hours either side of high tide, and on a good day you can catch a wave all the way from Crunchy Point (far left) to Treloars, probably a couple of hundred metres.
It was a fun day. A bit small (2-3 feet) with an onshore wind, but the waveski is pretty forgiving and can catch anything vaguely rideable. There was a mix of others out, including another waveski, a couple of standup paddle boards and a few longboards. The short boarders were just around the corner where they head straight into the bluff. The waveski is particularly suitable on such days, as there's a middle section that drops off, but you can at times paddle through it and the wave reforms for at least another 50 metres.
Stayed out about an hour and a half, caught a few long rides (making for a long paddle back out!) and only once turning turtle. Afterwards I went up to the bluff and took a couple of pics from the lookout, shown here.
All in all, a good morning. Everyone was friendly and well-behaved, and even though there were more cars when I left, there was no crowding or flouting the rules. And to be honest, I didn't drive straight home – I went to nearby Balnarring, where my usual habit is to go to the bakery and have a flat white and a fruit mince slice. It was shut, closed because of Covid-19. Fortunately the cafe next door was still functioning for takeaways, though $10 for my coffee and a piece of banana bread seemed a tad excessive.
Well I've told the tale of my day, but being on my own do not have any pics of me surfing, so I'll cut back three weeks or so in order to slip one in. Before it closed for the crisis, I managed a visit to UrbnSurf, the artificial surfing venue near Melbourne Airport. My neighbour and surf buddy Melina had tried it and was pretty positive, so I decided to give it a go.
They don't allow anything with a paddle, so I had to ditch my waveski and use a bodyboard. It's very popular and hard to get a booking, but I managed by choosing the left break (less popular than the right) for a 10 am session of one hour (I won't divulge the price – a bit expensive, but what the hell …). I turned up nice and early, and had a good wander around the pleasant site, and took a couple of pics.
About a dozen surfers are allowed in for each session, which was well supervised – we had someone in with us keeping an eye on things and ensuring that we kept to the rules, especially one person per wave. I was the only bodyboarder, with most of the others on short boards and one on mid-sized Malibu.
Was nervous going for my first wave, as it comes quite quickly and kicks up suddenly, but it suits a bodyboard and so I made every wave I attempted. That doesn't mean I necessarily lasted long, as the middle section is unexpectedly quick, and I got caught in the white water more often than I would have liked. In addition, about two thirds through the session they ramp it up a bit (i.e. bigger waves), making it a bit more challenging. Nevertheless, I managed three good full rides, and emerged tired and happy at the end of the hour.
What I didn't realise at the time was that pictures are taken of all surfers, which can be viewed online (with watermark) or purchased. It was a couple of weeks later that Melina mentioned it in passing, so I rushed to have a look. There were three pictures, and here's the best of them.
Can't wait till everything's back to normal and I can go again, this time with a friend or two. Though I suspect I may have had my last surf for a while – things are tightening up over Easter!