As I'm sure I've mentioned before, one of my favourite links is to Terry Anderson. Since his recent retirement (well, more a semi-retirement really), Terry has upped his online activity, and has recently moved to a personal website rather than a blog. Yes, he still blogs regularly, but his website is much more: relevant, topical, readable and helpful.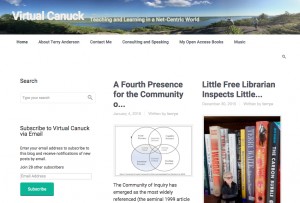 Terry has kept his webname (Virtual Canuck, surely needs no explanation), with the overall focus of the site being 'teaching and learning in a net-centric world'. Virtual Canuck includes his blog, his Twitter feed, personal information (including his musical interests) and, perhaps most importantly, access to his open access books. Thus far there are three, supplemented by links to the books in the series Issues in Distance Education, which he edited for Athabasca University Press.
When you visit the site, make sure you read the recent post 'A Fourth Presence for the Community of Inquiry Model?' This immensely influential model is partially of Terry's making, and continues to evolve. I've used it myself, both in my teaching and to underpin workshops. On more than one occasion in such workshops, Terry or one of his colleagues has happily and willingly joined in videoconference discussions of the model with participants. Such sessions always proved to be amongst the most popular, as participants really appreciate being able to read an article or chapter, and then have the opportunity to discuss it with the author.
Enough from me – take a look at the Virtual Canuck!