When I started this post, I intended to write about new online books I'd spied while perusing my own links on the right of this page. I'm still doing this, but I shall rapidly divert to rugby – I've just returned from a memorable short trip to New Zealand to see the semi-final of the Rugby World Cup between Australia and New Zealand.
First, the books. Martin Weller has made his beaut book, The Digital Scholar: How Technology Is Transforming Scholarly Practice, available free online. Go on, have a look, especially if you're an academic struggling (or even if you're not struggling!) to come to terms with the current demands that are laid on you by the relentless march of technology. If you've read any of his stuff before you'll know just how savvy and erudite he is – Martin writes engagingly, entreating us to happily join the technological world he gaily inhabits. And if you're quick, you can attend (in person or virtually) the official book launch on November 15.
And there's more. Stephen Downes has recently updated his list of eBooks made available free online, the two most recent being Free Learning Essays on open educational resources and copyright and Access::Future Practical Advice on How to Learn and What to Learn. Both comprise collections of his writings on particular themes, and make for convincing and compelling reading.
But now to more important things. A couple of weeks ago my son Nick managed to snaffle a couple of tickets to the second semi-final of the Rugby World Cup. We had enough faith to believe that Australia would make it through that far, and booked cheap flights/accommodation for the big event. Neither of us had spent any time in the north island of New Zealand, and what a revelation it turned out to be – 'Tasmania on steroids', as Nick described it (bear in mind that I am Tasmanian). We were there three days, and revelled in just driving around enjoying the magnificent scenery and ever-changing landscape.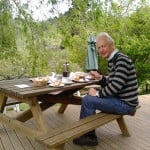 And the people are great – warm and inviting. They even serve good coffee and provide an abundant array of tasty morsels to go with it. We made a point of avoiding the 'chains' and trying to find the cafes that made their own food: the plum and rhubarb pie was scrumptious, the muffins delectable and the scones just right.
As for the rugby, yes of course it was disappointing that we lost, and lost so comprehensively. But nevertheless it seemed so inevitable and, believe it or not, a good thing. New Zealand deserved it for all sorts of reasons, not the least being their passion for rugby, but also their good humour and tolerance of us Aussies, their hospitality, and the tremendous hosting they provided.
For the first semi-final, we were within walking distance of one of the 'Fanzones', provided free by the hosts. It was in Mangere, and as such had a strong (totally dominating!) South Sea Islands presence. How great was that! We spent the first half in the warm and welcoming Mangere Cosmopolitan Club (beer and superb steak burger/chips) then ambled across the road to the Fanzone (alcohol-free) for the second half.
As for the Wallabies/All Blacks match the next evening, Eden Park was abuzz with black, with smatterings of gold and a significant green presence (the South Africans are so presumptuous, aren't they?). The excitement was palpable and the atmosphere electric. From the (errant) kickoff, we were never in it – what else can I say?