I don't get many Comments on my blog, so when I receive one I take notice. When someone does comment, I'm automatically sent an email with the details. What particularly caught my eye with a recent one was the name of the sender: Rodney Trotter. This is of course the name of one of our heroes (Del Boy's hapless younger brother) from the wonderful UK television series Only Fools and Horses, so my curiosity was aroused.
Clearly this particular Rodney (or whatever his real name is) had actually read my outline of the cars I've owned, as he referred to the fact that my father had bought my first (disastrous) car, a Renault Dauphine.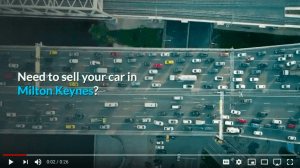 With this in mind, I decided to click the link Rodney added to his comment. It didn't look too suspicious or dangerous, as it was a link to a YouTube video. Turns out it's an advertisement for a Milton Keynes used car agency!
So I guess our modern-day Rodney Trotter has a sense of humour … and perhaps too much idle time at work!