If you're wondering how MOOCs are performing and evolving, a report has recently emerged that sheds light on one of the leaders in the field, the edX partnership between Harvard and MIT.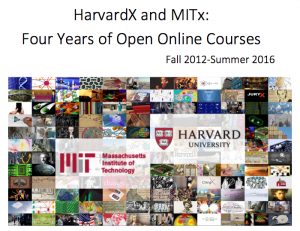 'HarvardX and MITx: Four Years of Open Online Courses' offers a snapshot of key findings concerning MOOCs at the two institutions over the period 2012 to 2016. As the abstract explains, the report covers "290 courses, 245 thousand certificates, 4.5 million participants, 28 million participant-hours, and 2.3 billion events logged online. We present our findings in a series of nine exhibits that address questions about the evolution of the MOOC movement from its birth in 2012, through its current adolescence." [aside: when I first skimmed this, I read the final word as 'obsolescence'!]
It's a nice easy read, with illuminating charts and graphs, offering commentary (the authors' term is 'exhibits') on the following series of questions:
How has total MOOC participation and certification grown over time?
Who takes a MOOC, and what do they do?
What percentage of MOOC users earn certificates?
If a MOOC is repeated, does its enrollment grow or shrink?
What are the hubs of the MOOC curricular network?
How do MOOC demographics and activity differ across curricular areas?
How many MOOC participants state their intention to earn a certificate, and do they?
How many teachers take MOOCs?
How much online time does it take for a MOOC participant to earn a certificate?
The question which most caught my eye is number 8, concerning teachers. As the report reveals, "Teacher participation remains high, with 32% responding as being or having been a teacher." This is reminiscent of the history of the UKOU, where a rapidly emerging pattern was the high participation rate of teachers. Not only that, it was found that many university lecturers were using UKOU teaching materials to prepare their lectures. That this is probably also true in this case is indicated by the further revelation that "Of those self-described as being or having been a teacher, 19% teach the topic of the course."
Teachers are a pragmatic lot.