In 1985, as a young family, we moved to Hong Kong, where I had obtained a job at Hong Kong Polytechnic, now (in)famous for the student occupation and protest of 2019. As an expatriate staff member, I was entitled to subsidised housing, and we were duly allocated to Pak Tak Yuen, out at Shatin in the New Territories. The accommodation was spacious by Hong Kong standards, and we shared the quarters with a motley collection of families from around the globe (UK passport holders were unsurprisingly predominant, and there were also Hong Kong Chinese families, albeit with foreign passports).
Another staff member living at Pak Tak Yuen was Kit Sinclair, who worked in rehabilitation sciences. Like us, she had a family of four, with a girl and boy about the same ages as ours. She was married to the legendary long-term Hong Kong resident and journalist, Kevin Sinclair.
Kevin, a native of New Zealand, was quite a scary character. Like many journalists, he had strong opinions and was forthright in expressing them. Rather gruff, he did not suffer fools gladly, but was nevertheless goodnatured and happy to chat, and that is where difficulties arose. As Robby Nimmo wrote: "Kevin was somewhat curt. He had the sort of disdain that you need to be really skilled at to pull off. He suffered fools the way the Queen may endure a boy-band concert."
A few years before our arrival in Hong Kong, Kevin had contracted cancer and underwent a laryngectomy, leaving him with a large hole in his throat and significant difficulty in speaking. This made it a challenge to chat with him at the parties regularly held at Pak Take Yuen, as he enjoyed a drink and became frustrated when he failed to be understood. But he was always interesting to talk to, so I stuck with it and in time was able to understand most of his conversation.
It was just as well, as from time to time he and Kit would kindly pick me up at the bus stop and give me a lift in to the Poly. It took intense concentration, but my perseverance and accompanying fear inspired me.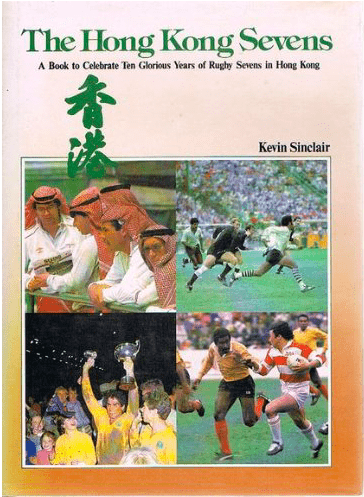 Like most expatriates, Kevin annually attended the famous Hong Kong Rugby Sevens, and would write about it from his unique perspective in the South China Morning Post (SCMP). Among the pile of books he wrote are 'The Hong Kong Sevens' and 'The Sevens – Celebrating 20 Years'.
By 1986 I'd become heavily involved in Mini Rugby, having encouraged my son Nick to play, and I helped out with the coaching at the Kai Tak Rugby Club. If you're familiar with Hong Kong, you'll know that Kai Tak was the old airport in the middle of Kowloon, where terrified passengers would gaze into the windows of high-rise apartments on final descent before landing. The Club's rugby training grounds were inside the airport boundaries, and we would meet there every Sunday morning.
The team I helped coach was the Under 8s, and like all teams comprised a mixture of boys from many countries – this pic has lads from Wales, Japan, USA, England, India, Australia and Hong Kong. Some of the Hong Kong boys were from St Christopher's Orphanage, under an arrangement the club initiated to help their sporting development and encourage interaction with other groups. Not everyone spoke English, making the training sessions a challenge at times, with the St Christopher's supervisors translating instructions about a game they knew very little about! Equally, our Cantonese was seriously deficient, about the only phrase I knew being 'fai-dee-lah' (go faster!).
The highlight of the year for mini rugby was the opportunity to play at the Hong Kong Sevens, with matches between the clubs scheduled during the lunch break of the senior teams. That year we were fortunate enough to be involved, and a grand weekend it was indeed.
The Sevens competition takes all weekend, with the mini rugby games played on the Saturday. On the Sunday Morning, the SCMP naturally had multiple pages of news and updates of the rugby (I well remember a front page pic of a streaker at the stadium!), including a piece by Kevin Sinclair in the sports section at the back. Kevin had decided to write about the 'try of the day' (across the entire competition), and you can imagine our surprise and delight when it was one of our players! I don't remember his name, but it was one of the boys from St Christopher's. What had caught Kevin's eye was the sheer joy and exhilaration of this speedy winger as he ran at full tilt close to the sideline, grinning all the way. I may be mistaken, but I believe it was the boy at the back left in the above photo.
I lost track of Kevin when we left the Poly in 1991. He fought on in his dogged manner, finally succumbing in 2007 to the disease which had plagued him for decades. For a fuller and more colourful account of Kevin, read the following by a clearly close friend: