I don't mention it every year, but it seems time to remind you of the annual Horizon Report, as the 2015 edition is available. As ever, it provides solid and sensible reading concerning:
… the five-year horizon for the impact of emerging technologies in learning communities across the globe. With more than 13 years of research and publications, it can be regarded as the world's longest-running exploration of emerging technology trends and uptake in education.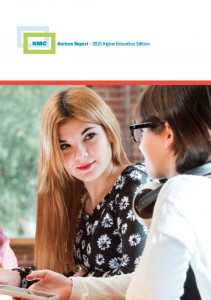 The report, a collaboration between the New Media Consortium and the EDUCAUSE Learning Initiative, follows the established pattern of presenting discussion of trends and challenges, followed by detailed examination of the six chosen most significant current developments in educational technology for higher education. Yes, it's US based, but the expert panel thankfully includes a healthy range of members from a variety of countries (three from Australia – very sensible!).
The tried and true structure is useful and informative: key trends divided into long-term (5+ years), mid-term (3 – 5 years) and short term (1 – 2 years); significant challenges divided into solvable, difficult and wicked; and important developments with time horizons of 1 year or less, 2 to 3 years and 4 to 5 years. Two examples are chosen for each of the resulting 9 categories, resulting in 18 topics explored in detail.
Happily, none of the examples is MOOCs (though it cracks a mention or two, especially with respect to blended learning). Among the trends is 'Proliferation of Open Educational Resources' (in the 3 – 5 year category). It's not particularly fascinating reading, but does provide a neat overview (with suggested further reading) of the recent development and uptake of OER.
One of the difficult challenges discussed is 'Teaching Complex Thinking', in the understanding that:
… institutions have a responsibility to prepare learners to take advantage of the latest tools and techniques to help them tackle complex problems and influence systemic change through their mode of communication. Other emerging technologies including semantic web and modeling software, among other innovations, are contributing to the experimental conditions that have the potential to train learners in complex and systems thinking.
Again, there's some relevant follow-up reading, as well as implications for policy, leadership or practice.
The current excitement concerning 3D printing is reflected in one of the 6 important developments, 'Makerspaces'. What are they?
Proponents of makerspaces for education highlight the benefit of engaging learners in creative, higher-order problem solving through hands-on design, construction, and iteration. The question of how to renovate or repurpose classrooms to address the needs of the future is being answered through the concept of makerspaces, or workshops that offer tools and the learning experiences needed to help people carry out their ideas. Makerspaces are intended to appeal to people of all ages, and are founded on openness to experiment, iterate, and create.
Other developments include the 'Flipped Classroom', 'Wearable Technology' and 'Adaptive Learning Technologies'.
Interestingly, overall the "experts agreed on two long-term trends: advancing learning environments that are flexible and drive innovation, as well as increasing the collaboration that takes place between higher education institutions." Anyone who has been involved in efforts to improve institutional collaboration well knows how wickedly difficult it can be, and the higher the level of collaboration sought, the more wicked it is!
Diagram credit: Johnson, L., Adams Becker, S., Estrada, V., and Freeman, A. (2015). NMC Horizon Report: 2015 Higher Education Edition. Austin, Texas: The New Media Consortium.