For some time I've been extolling the virtues of TED, having spent many a happy 18 minutes (the time limit of a TED presentation) avidly watching the replays of some stunning, moving, eye-opening, confronting and inspiring talks. So I was pretty excited to learn that I could attend a TED event! OK, so it wasn't one of the big ones (Long Beach, California or Oxford), but a TEDX (independently organized) event, planned in Penang and run at Wawasan Open University (WOU), where I am currently doing another short stint.
So I duly registered, paid my 20 ringgit, and entered the auditorium to soak up the delights of TEDXGURNEYDRIVE, which had the theme 'The Island' (Penang being such a geographical feature, just in case you were unaware). I was immediately struck by the age of the overwhelming majority of those attending – most looked as though it would be a few years till they saw 30. Now it may of course be that I'm getting so old that nearly everyone else looks young (especially police officers), but it gave the event a real buzz, and the enthusiasm of the audience was infectious.
The presenters (like the topics) were a mixed bunch (in a good way!), and the first talk was a beauty – insightful, engaging, educational, warm and witty. See for yourself, as Prof Dato' Anwar Fazal, a leading social advocate, presents 'The Spirit of Penang'. Even some locals commented that they learned things concerning Penang about which they were previously blissfully unaware. Note that you'll need to 'fast forward' to the 27 minute mark to get past the introductions.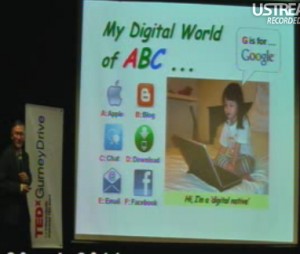 This set a very high standard for those who followed, and some struggled more than others. [The above video shows the first three speakers, and you'll find the other two videos for the rest on UStream. Males dominated the nine-person speaker list, though the lone female (21-year old Jazz Tan Yee Mei) more than held her own with her stirring tale, 'Youths are Leaders of Today'. 'Penang Industry Beyond Manufacturing' may not seem a particularly exciting title, but wait till you see what Dato' Boonler Somchit does with it! And a colleague from WOU, Prof Dato' Ho Sinn Chye, produced a chuckle or two from the audience, particularly his slide of his grand-daughter doing her ABCs on her laptop (see 'To E-Learners, Engagement is the Name of the Game', parts 1 and 2). Now it may have been just me, but the speaker (un-named – I'll leave it to you to work it out if you're interested) who came on a bit strong with the emotional appeal, somewhat in the style of a Southern US preacher, left me a rather unmoved. To be blunt, the local presenters were better than the 'imports'!
I must admit to skipping the lunch, but apparently that turned out to be a good move from what I hear from those that endured. But what can you expect for 20 ringgit (about US$7) – you'll pay a tad more to attend a TED Conference (TED2012 will set you back US$7500). And anyway, it wasn't about the food, it was about the event, and that was without doubt a great success.