Tomorrow afternoon I'll be involved in a meeting using desktop videoconferencing (Elluminate) – it's a group of tutors discussing the upcoming projects of their students, scattered all over the globe (both the tutors and participants). 
I'm also still rummaging around at home in my collection of books, journals and reports. While perusing my early volumes of Distance Education (watch out for the special 30th anniversary issue!), I came across a report from Tasmania concerning the use of technology in education. It took place when I was an MEd student some 25 years ago, and involved the application of technology to link two tutorial groups in Hobart and Launceston, some 200 kilometres apart. 
Yes, what took place back then is not too dissimilar to what will take place tomorrow. We had full audio and video connection producing an interactive discussion group. Further, for one of the sessions, we were able to include an audio link from an expert on the mainland (that's what we Tasmanians call the rest of Australia). You'll get an inkling of the technical setup from two pages selected from the report (Teaching at Tertiary Level Using Interactive Television, KF Collis and BJ Caldwell, 1984). Click to see more detail.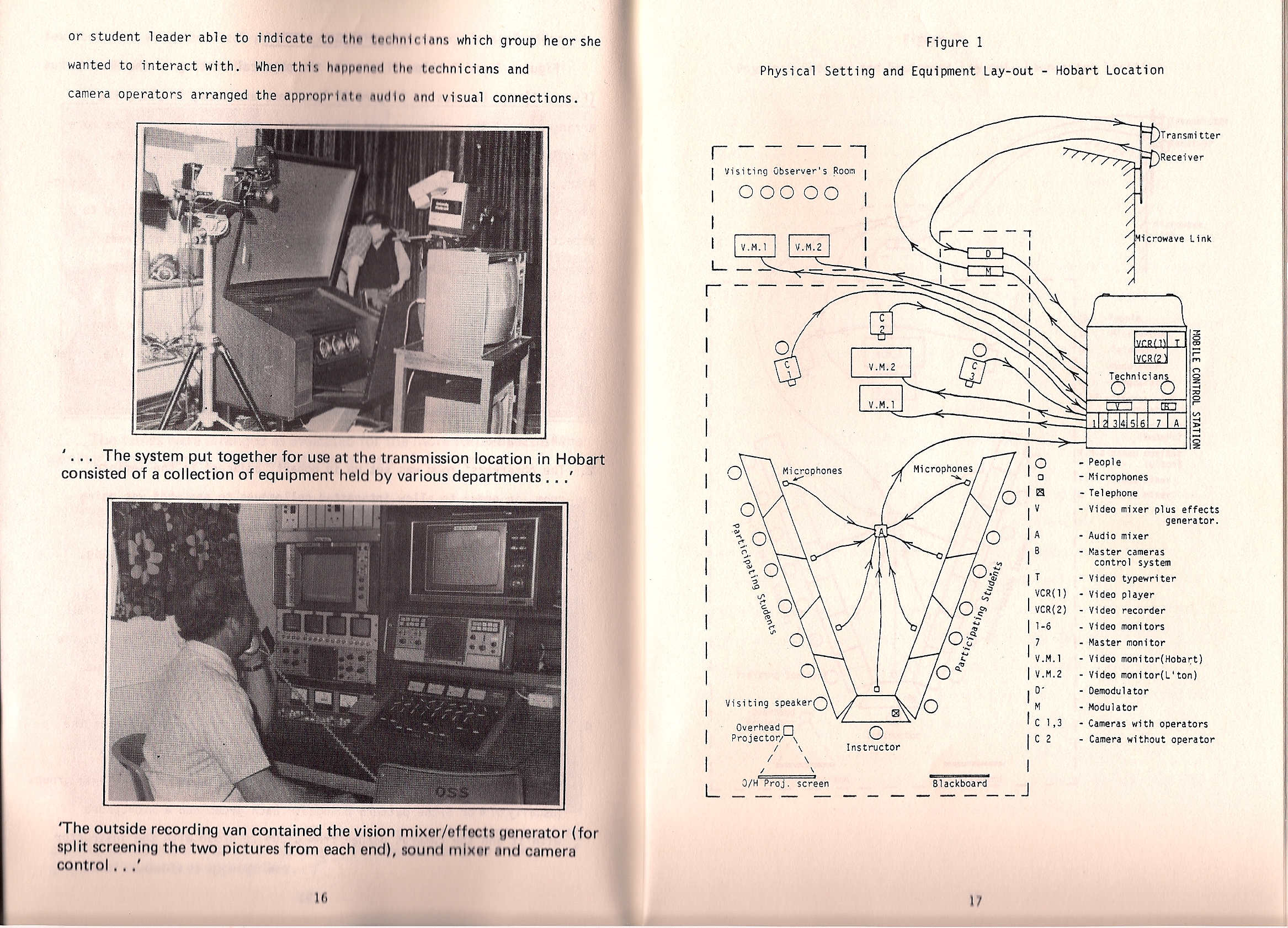 Hmm, yes, looks a tad primitive, doesn't it? But it worked – I should know, I was there, proof of which is a scary group photo which includes me on another page. What's important and of greater interest, though, is the range of interactivity that was achieved. To quote from page 43 of the report, this included:
"1. instructor presenting topic to both locations;
2. students at both locations interacting with the instructor;
3. student presenting paper to combined groups;
4. student using overhead projections to illustrate points being made to combined group;
5. small group discussion – 3 groups in each location, each could be monitored and interacted with by instructor and/or student;
6. guest speakers from the profession, introduced at one location, were able to interact with students at both locations; 
7. video-taped input could be viewed and discussed by students interacting within and between locations." 
Was it perfect? Of course not, but participants reported positively on the experience and the "experiment was an unqualified success – it achieved the aims which it set out to achieve and obtained valuable information regarding the effect on students of using the interactive television form of instruction" (p. 47). And the evaluation was extensive, including Moos Group Environment Scale (still in use after all these years) and the measurement of stress levels, through both questionnaire and heart rate!
Was it implemented further? Not surprisingly, no, this being based more on its resource-hungry nature than on the effectiveness of the teaching method. However, I'd say it did have an effect on attitudes towards teaching with technology of the participants, and the main 'driver', Brian Caldwell, did go on to a distinguished career, eventually becoming Dean of Eduction at the University of Melbourne.